Our Jet Setter card is ideal for the traveler on the go. Simplify your travels and enjoy the freedom of booking charter flights without the hassle of paperwork every time you travel, unlike our other cards, the Jet Setter card allows unlimited access to all 2Group charter services such as private jets, VIP planes, air ambulances, private helicopters, ground transportation and yachts. The Jet Setter Card works like a debit card and allows members to enjoy the convenience of streamlined transactions by eliminating the headache of currency conversions and exchange fees.
Access to all world
No currency exchange fees
No membership or administration fees
Confirm flights with just an email
No need for a contract
Cards with fixed rate per hour
2Group's flat rate hourly cards are attractive to private aviation frequent flyers seeking to secure a guaranteed hourly rate and enjoy competitive prices. Due Because of our extensive access to aircraft around the world, we avoid the repositioning costs and make sure you receive the best worth. Fixed hourly rate cards are designed with account the needs of the expert traveler in private aviation, that's why We make your safety our top priority. From a variety of aircraft category options to flight hour plans customized flights, 2Group offers an unparalleled travel experience with the flexibility you need to meet any year-round travel requirement.
Our prepaid hourly jet card is the latest addition to our full range of private jet charter services. Our cardholders have valuable benefits like better
control of travel expenses, fixed hourly rates and access to a fleet
newer.
A single payment for the bag of flight hours desired without the
worry about new disbursements, simply select the
date, time, destination and aircraft of your choice and you will be ready to
fly with 2 Group.
Greater insurance coverage
15% discount on select round trips
All aircraft are from the year 2000 or newer
All aircraft are audited by Wyvern and/or ARGUS
Flexibility to upgrade or downgrade aircraft
When renewing the card, unused hours will be added to the new account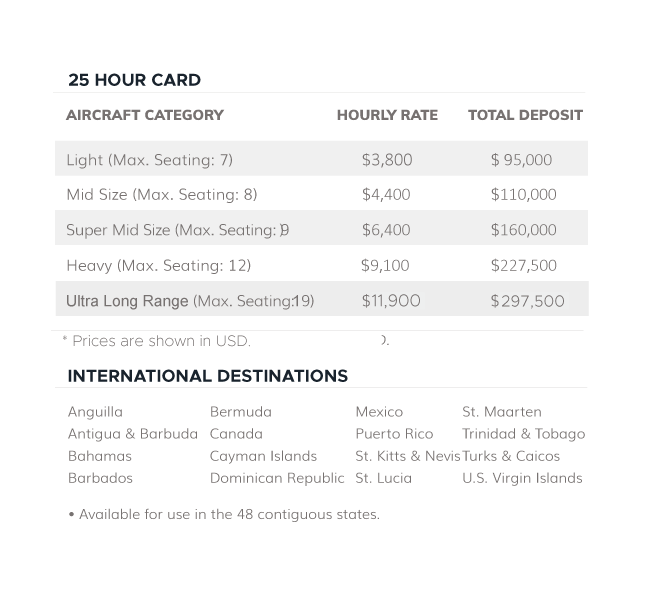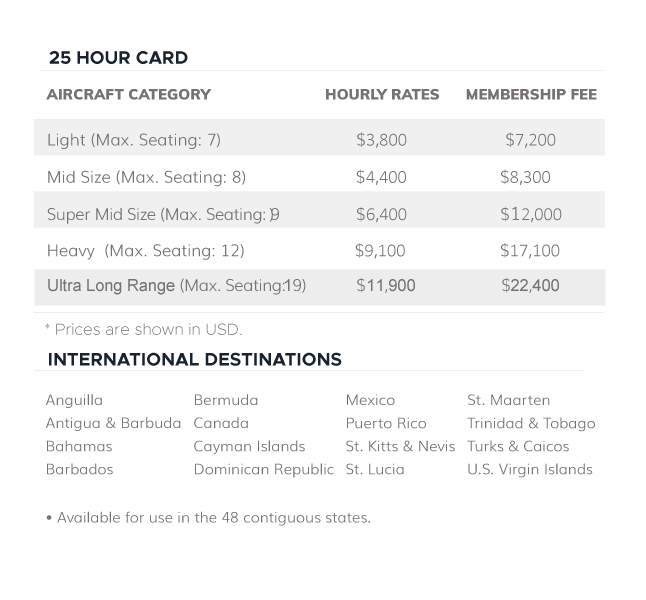 Enjoy the benefits of a fixed flight hourly rate without the financial commitment. Simply purchase one 2Group membership for a single payment that allows you to set a hourly rate and pay only when the use of the service.
Fixed hourly rates.
Increased insurance coverage
Payment for effective use of the service.
15% discount on select round trips
All aircraft are audited by Wyvern and/or ARGUS
Flexibility to upgrade or downgrade the aircraft.
When renewing the card, unused hours will be added to the new account